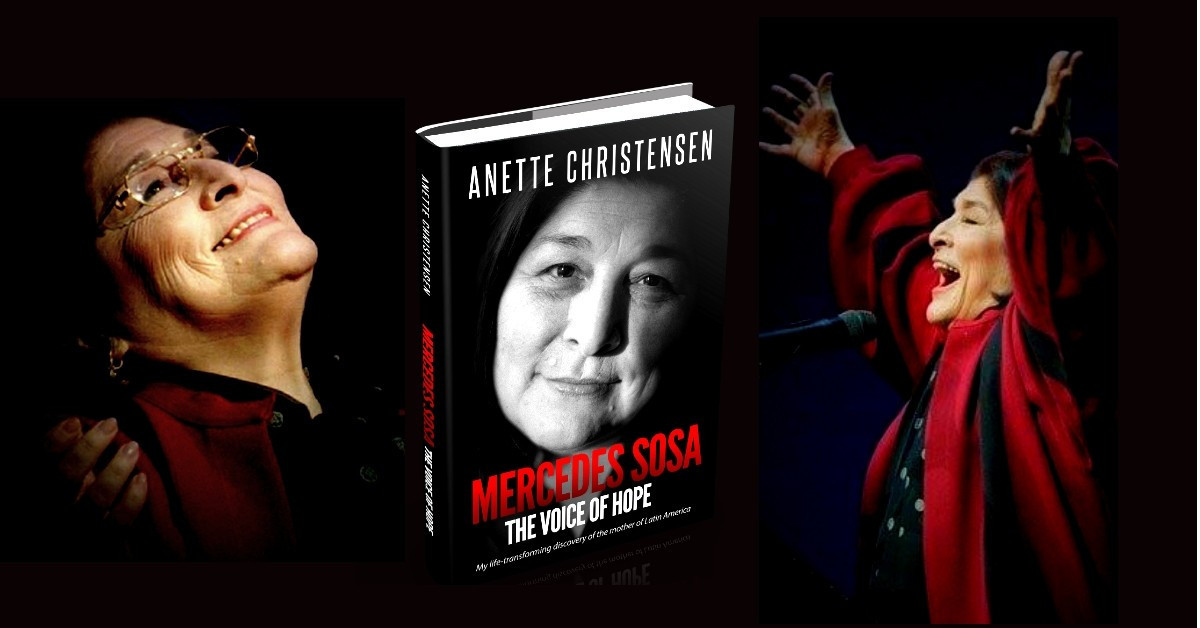 This is paragraph text. Double click here to edit and add your own text.
"I can't remember having read a book that released as many tears as this one and I am a "hardcore businessman". I will certainly buy more copies of the book for my friends in the near future. I have become a Mercedes Sosa convert!" Johs Lund Larsen

"I'm bowled over on a personal level, as a reader, and as a reviewer. I found part one very authentic, informative and moving but part two has left me gasping. A lot of what is written resonated with me so I couldn't put the book down till I finished it!" Barbara Webb, Author & Book-reviewer
"The introduction to Mercedes Sosa, for those who never knew of her, is enthralling and the author's story of how her connection with Mercedes reinvigorated her life is captivating and urges the reader to learn more. The author does more than just entertain the reader or spark the reader's interest. She spreads hope and knowledge." David Larkin, Journalist & Editor
"The author's personal experience in part two was a huge inspiration for me. The way the author guided by intuition comforted and nurtured her inner child by connecting with Mercedes Sosa as a mother figure is so beautiful, genuine and authentic. That it is all backed up with balanced scientific explanations makes it very trustworthy." L.B.N. Nurse
"Mercedes Sosa – The Voice of Hope is something special. Honoring the life of Mercedes and a wonderful story of personal healing. I love it and I hope millions of people discover it and buy it!" Sandy Fabrin, Therapist
"I devoured every single word because I found a part of myself in it. I felt connected to the author and what the author has been through. I believe that her story speaks out for each one of us." Hermione Bloom, Journalist


WATCH THIS TRAILER ABOUT MERCEDES SOSA
Avec sa voix puissante et sa présence sur scène convaincante, la chanteuse de folklore argentine Mercedes Sosa était une interprète de classe mondiale dont l`influence allait bien au-delà des frontières de la musique. Mise sur liste noire parmi les personnes les plus dangereuses pour le régime en Argentine dans les années 1970, elle est devenue le point de référence clandestin pour les pauvres et les opprimés, et une icône de la démocratie qui a combattu les dictateurs d`Amérique du Sud avec sa voix.
Parallèlement à sa carrière, qui lui a valu quatre Grammy Awards, Sosa a également travaillé comme ambassadrice de bonne volonté pour les enfants en Amérique latine et dans les Caraïbes, et a obtenu le prestigieux poste de vice-présidente du Conseil de la Terre. Surnommée « La voix des sans-voix », Sosa est devenue une légende et une mère très aimée en Amérique latine. Bien que Mercedes Sosa ait été l`une des artistes les plus reconnues de la musique internationale, et qu`elle ait collaboré avec des musiciens tels que Luciano Pavarotti, Sting et Joan Baez, elle demeure un héros méconnu en dehors de l`Amérique latine.
Mais comment une fille élevée dans une famille pauvre de la classe ouvrière indienne a-t-elle pu acquérir une telle influence ? Mercedes Sosa - Plus qu'une chanson explore le secret de l`impact remarquable de Sosa et révèle comment son éducation, les circonstances politiques et les tragédies personnelles ont forgé sa vie et sa carrière.
Aujourd`hui, dix ans après sa mort, l`héritage de Sosa continue de briller. Son exemple d`intégrité et de solidarité est toujours d`actualité et fait d`elle un modèle qui montre la voie vers un monde plus emphatique et plus compatissant. Son histoire fait appel au meilleur de nous tous. Vous êtes sur le point de rencontrer une femme qui vous inspirera par son courage et son authenticité.

« Dans ce travail, vous trouverez une perspective nouvelle et touchante sur notre bien-aimée Mercedes. C'est un hommage sincère et affectueux honorant la vie de ma mère. Merci, Anette, pour tous vos efforts au nom de la Fondation Mercedes Sosa. »
-Fabián Matus, fils de Mercedes Sosa et président de la Fondation Mercedes Sosa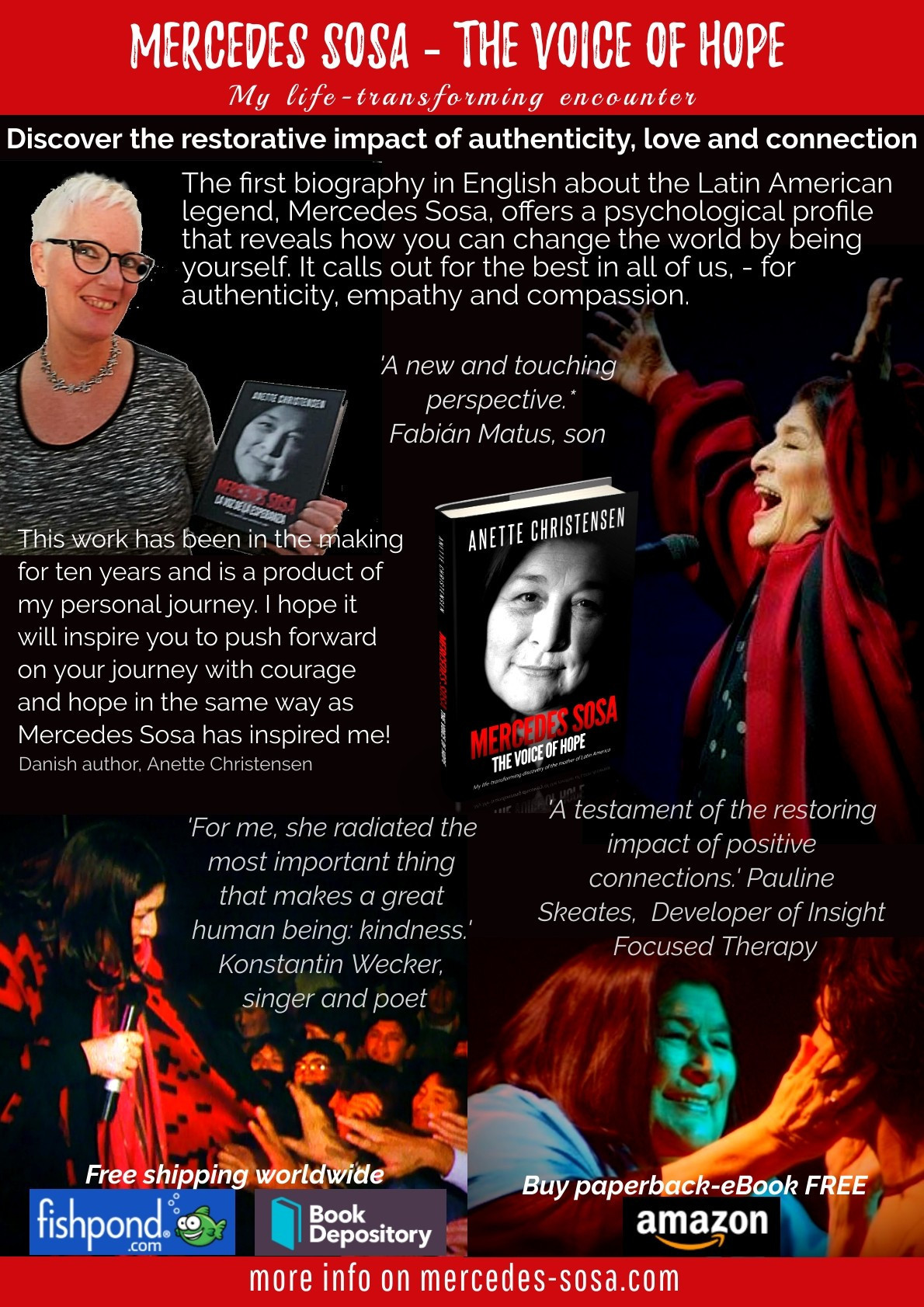 This is paragraph text. Double click here to edit and add your own text.
Mercedes Sosa - La légende arrive en français en 2020....
Anette Christensen's book, Mercedes Sosa - The Voice of Hope: My Life-transforming Encounter, is both biography and personal memoir. She chronicles Sosa's spiritual, political and artistic journey in the first half of the book. Christensen writes in the present-tense, which gives it an immediacy that's not only powerful and gripping, but it helps to bring this remarkable woman to life. The writing itself is clear, unpretentious and often eloquent, much like Sosa's music. There are times when the author's voice and creativity blends with the material, which is often the case in good historical writing. It's impossible for a biographer to know for sure what a subject is thinking, for example, but in using good research together with a well-honed instinct and empathy, delivering those thoughts to the reader can be a transcendent as well as informative experience. Christensen manages this beautifully, and paints a portrait that incorporates the colors of despair, triumph, love, fear, and all the other human emotions that define a life--in this case, the life of one of the greatest contemporary artistic revolutionaries in Latin America.
In the second half of the book, Ms. Christensen explores, in memoir fashion, her own life, and how her discovery of Sosa's music and life became a catalyst for change and growth in her own. She's careful to use enough detail to make her generalizations solid, and she doesn't shy away from uncomfortable truths about her own life. Her journey through neuroscience and other contemporary approaches to spiritual growth such as mindfulness, is interesting and informative. If I had to choose one thing I regretted, and wish she had addressed more fully, it would be how Sosa affected her own stance toward political things. Make no mistake about it, politics was at the center of Sosa's life, for politics is the science of human relationships. Sosa was a political revolutionary, which is a dangerous thing to be in this world, even in places and times where fascism and repressive politics are underground or waiting for the first chance to rear their ugly heads. -

This is a beautiful book, and I hope it gets the attention it deserves. The fact that English is a second language for the author is remarkable, in and of itself.
Charles Musser, film historian, documentary maker, author and professor of Film and Media Studies
Anette Christensen, est née et a grandi au Danemark. Elle est professeur de langue et narratrice de talent.
Elle vit aujourd`hui en Turquie, où elle se concentre et écrit sur l`épanouissement personnel. Sans détour, avec sincérité et compassion, l`auteur motive le lecteur à poursuivre son cheminement personnel.

Pendant des années, Anette a voyagé dans de multiples régions du monde. Ses expériences avec différentes cultures lui ont permis de s`engager auprès de personnes ayant une vision de la vie différente de la sienne. Avide d`apprendre, elle s`épanouit dans la reconnaissance des différences, repérant ce qu`elle estime être le caractère unique de chacun.
Ce n`est qu`à la mort de Mercedes Sosa que Christensen découvre cette chanteuse argentine si influente et importante.
Captivée par la voix et la présence de Sosa, Christensen s`est immergée dans la musique et la vie de Sosa pendant des années et est devenue une experte respectée de la vie de Mercedes Sosa dans le monde entier.